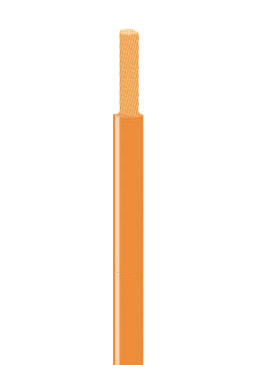 (HOFR) Welding cable Single core EPR insulated CSP sheathed to BS 638 part 4 100V*
Application
For secondary connection to automatic or hand held metal arc welding electrodes.
Specification
Conductor: Flexible class 6 tinned copper to BS 6360
Insulation: Ethylene propylene rubber (EPR)
Sheath: Chlorosulphonated polyethylene (CSP)
Available in Black or Orange
Voltage rating: 100V
Temperature rating: 85 Deg C max conductor operating temperature
HOFR Heat and oil resistant, flame retardant
Rated at 100V* when used for welding purposes. May be used at up to 450 V providing the cables are adequately protected from damage to the insulation in control panels, switchgear etc.
DUTY CYCLE: The duty cycle is defined as the time for which the current flows , expressed as a percentage of the complete cycle, which is taken as 5 minutes. Since the length of time for which current flows during welding operation varies from occasional to continuous operation . As conductor temperature varies according to time in use as well as current the following ratings are given as a guide .
Automatic welding: up to 100 %
Semi-automatic welding: 30 - 85 %
Manual welding: 30 - 60 %
Very intermittent or occasional welding: up to 20 %
Ambient temperature: Cable operating temperature also varies according to the prevailing ambient temperature. EPR/CSP cables are designed to give optimum performance up to an operating temperature of 85 Deg C at an ambient temperature of 25 Deg C. The reduction factors for increased ambient temperatures are :
AMBIENT TEMPS
30 Deg
35 Deg
40 Deg
45 Deg
REDUCTION FACTORS
0.96
0.91
0.87
0.82
Operations under severe conditions
High operating temperatures or prolonged maximum loading of the cable reduce the service life or makes the cable too hot to handle. Thus under conditions where a long service life cannot be expected or where a high surface temperature is tolerable, the current rating for 25 Deg C may be applied up to an ambient temperature of 40 Deg C.
SIZE
MM
STRANDING
MM
NOMINAL
O/DIA MM
WEIGHT
KG / KM
MAX
DUTY
CYCLE
100%
MAX
DUTY
CYCLE
60%
MAX
DUTY
CYCLE
30%
16
513 / 0.20
10.9
212
135
175
245
25
783 / 0.20
12.5
300
180
230
330
35
1107 / 0.20
14
403
225
290
410
50
1566 / 0.20
16
560
285
370
520
70
2214 / 0.20
18.6
776
355
460
650
95
2997 / 0.20
21.2
1035
430
560
790
120
608 / 0.50
23.1
1300
500
650
910