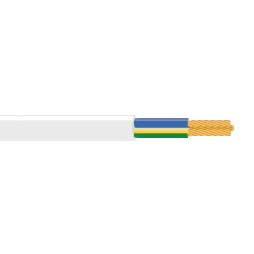 Light duty PVC insulated and sheathed flexible cords to BS 6500 300 / 300V
Application
A general purpose flexible cord suitable for use indoors and outdoors in dry conditions.
Unsuitable for temperatures below 0 Deg C.
Specification
Insulation: PVC insulated type T1.2 to BS 7655
Core identification:
2 core Brown, Blue
3 core Brown, Blue, Green / Yellow
4 core Brown, Grey, Green / Yellow, Black
Sheath: PVC sheath type TM 2 to BS 7655
Available in Black or White, other colours can be manufactured.
Voltage: 300 / 300V
Temperature rating: 70 Deg C max conductor temperature.
REF
NUMBER
NOMINAL
CONDUTOR
AREA
MM
STRANDING
MM
NOMINAL
O/DIAMM
WEIGHT
KG / KM
2192Y
0.5
16 / 0.20
3.3 x 5.4
28
2192Y
0.75
24 / 0.20
3.6 x 5.8
35
2182Y
0.5
16 / 0.20
5.4
37
2182Y
0.75
24 / 0.20
5.8
46
2183Y
0.5
16 / 0.20
5.6
45
2183Y
0.75
24 / 0.20
6.1
55
2184Y
0.5
16 / 0.20
6.2
53
2184Y
0.75
24 / 0.20
6.7
65