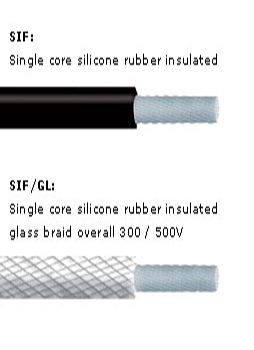 Application
Silicone cables are employed where insulations are subjected to extreme changes in temperature. They are heat resistant up to 180 Deg C, intermittently 220 Deg C.
Due to good resistance in all weather conditions these cables can also be employed at temperatures as low as - 60 Deg C.
Upon and after combustion a residue of pure silica is produced and the cables continue to function. However, it is usual to provide a glass braid around the cable to prevent a break down of the silica during and after a fire. Silicone cables are halogen free and are most suitable for power plants. They have become indispensable in a wide range of industrial sectors, in foundries, steel and hot rolling mills, cooking equipment, cement, glass and ceramic factories, ship and aircraft construction, and oil burners.
Specification
Conductors: Flexible class 5 tinned copper conductors to BS 6360
Insulation: Silicone rubber - SIF
Treated glass fibre braid - SIF / GL
Voltage rating 300 / 500V
Minimum bending radius 15 x o/dia
Temp rating - 60 to + 180 Deg C
Available in various colours. SIF /GL normally white.
Range & Dimensions
SIF
SIF / GL
SIZE MM
STRANDING
MM
NOMINAL
O/DIA MM
WEIGHT
KG / KM
NOMINAL
O/DIAMM
WEIGHT
KG / KM
0.5
16/0.20
2.1
8
2.6
12
0.75
24/0.20
2.4
11
2.9
16
1
32/0.20
2.5
14
3
18
1.5
30/0.25
2.8
19
3.3
23
2.5
50/0.25
3.4
30
3.9
35
4
56/0.30
4.2
48
4.7
53
6
84/0.30
5.2
71
5.7
77
10
80/0.40
7
120
7.5
129
16
126/0.40
8.4
180
8.9
198
25
196/0.40
10.3
290
10.8
302
35
270/0.40
11.6
400
12.1
413
50
396/0.40
13.9
550
14.4
578
70
360/0.50
16
750
16.5
815
95
475/0.50
18.4
1000
18.9
1100
***** Available in various colours
CURRENT RATINGS FOR SILICONE CABLES
The indicated values stated in the following tables are considered as guiding values. These are to be selected each particularly for the individual application.Heat-resistance at an ambient temperature up to 150 deg C
 
Group 1
Group 2
Group 3
Nominal cross-section
Current carrying capacity A
Protective fuse A
Current carrying capacity A
Protective fuse A
Current carrying capacity A
Protective fuse A
0.25mm
2.8 -
- -
5 -
0.5mm
6 -
7 -
10 -
0.75mm
9 6
12 6
15 10
1.0mm
12 10
15 10
19 20
1.5mm
16 16
18 16
24 25
2.5mm
21 20
26 25
32 35
4.0mm
28 25
34 35
42 50
6.0mm
36 35
44 50
54 63
10.0mm
49 50
61 63
73 80
16.0mm
65 63
82 80
98 100
25.0mm
85 83
108 100
129 125
35.0mm
105 100
135 -
158 160
50.0mm
140 125
168 -
198 200
70.0mm
175 160
207 -
245 250
95.0mm
210 200
250 -
292 300
120.0mm
250 250
292 -
344 335
150.0mm
- -
335 -
391 -
185.0mm
- -
382 -
448 -
240.0mm
- -
453 -
528 -
300.0mm
- -
523 -
608 -
Group 1: One or more single core cables laid in duct
Group 2: Multicore cables, flexible cables laid in open or ventilated conduits
Group 3: Single core cables laid in open air with a spacing at least equal to diameter
Power ratings for ambient temperature over 150Deg C
The following conversion factors are valid:
| | |
| --- | --- |
| Temperature 0c | Current carrying capacity values in % |
| Up to 150 | 100 |
| Over 150 to 155 | 91 |
| Over 155 to 160 | 82 |
| Over 160 to 165 | 71 |
| Over 165 to 170 | 58 |
| Over 170 to 175 | 41 |